Invectors is a spin-off company of University of Naples "Federico II" specialized in a range of formulation and drug delivery technologies, from micelles, conventional liposomes, stealth liposomes and other supramolecular aggregates and nanoparticles.
We have strong and broad expertise in the drug delivery field with a special focus on the use of peptides as targeting tool for selective delivery of drugs or contrast agents.
Invectors highly qualified staff and the partnerships with the University of Naples "Federico II" provides expertise and knowledge in the area of Drug Delivery in general and particularly in delivery technologies based on bioactive peptides.
---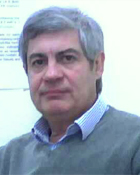 Giancarlo Morelli
Invectors CEO
Professor of Chemistry at School of Pharmacy – University of Naples "Federico II"
Director of the InterUniversity Centre for Research on Bioactive Peptides, CIRPeB
President of Italian Peptide Society, ItPS
Chairman of International Peptide Meeting series: "Naples Workshop on Bioactive Peptides"